Your Very Own Finance Team
Small businesses rarely have access to the same level of financial expertise as larger businesses.
Hiring a finance director is usually too expensive, and there's not quite enough work to justify hiring a bookkeeper.
But now - for the first time ever - you can tap into our extensive in-house finance team experience.
We now offer four additional services alongside our existing packages:
Numble Payments
Numble Cash Flow
Numble Growth Plan
Numble Invoicing
Here's how each plan works.
Save time with Numble Payments
We'll take over all payroll, tax and supplier payments. You'll approve payments when you're ready.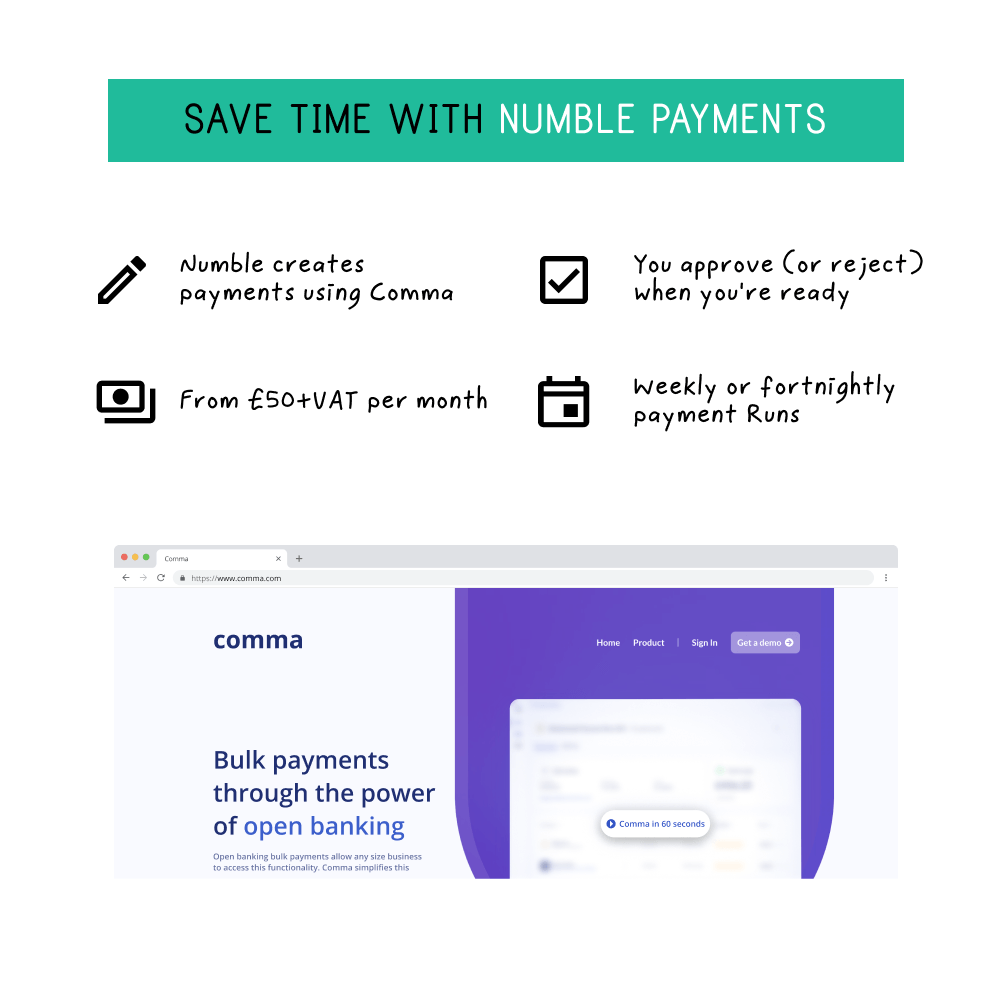 How it works
We set up payment runs (using Comma or Telleroo). These systems allow us to create a payment run without needing direct access to your bank account.
We process everything - including bank details - and we'll pay anyone including suppliers, HMRC and employees.
Every week, you'll login to Comma or Telleroo and approve one bulk payment.
Reduce uncertainty with Numble Cash Flow
We'll prepare cash flow forecasts to give you visibility of when you might run out of cash. We'll provide active advice by searching the market for funding when you need it.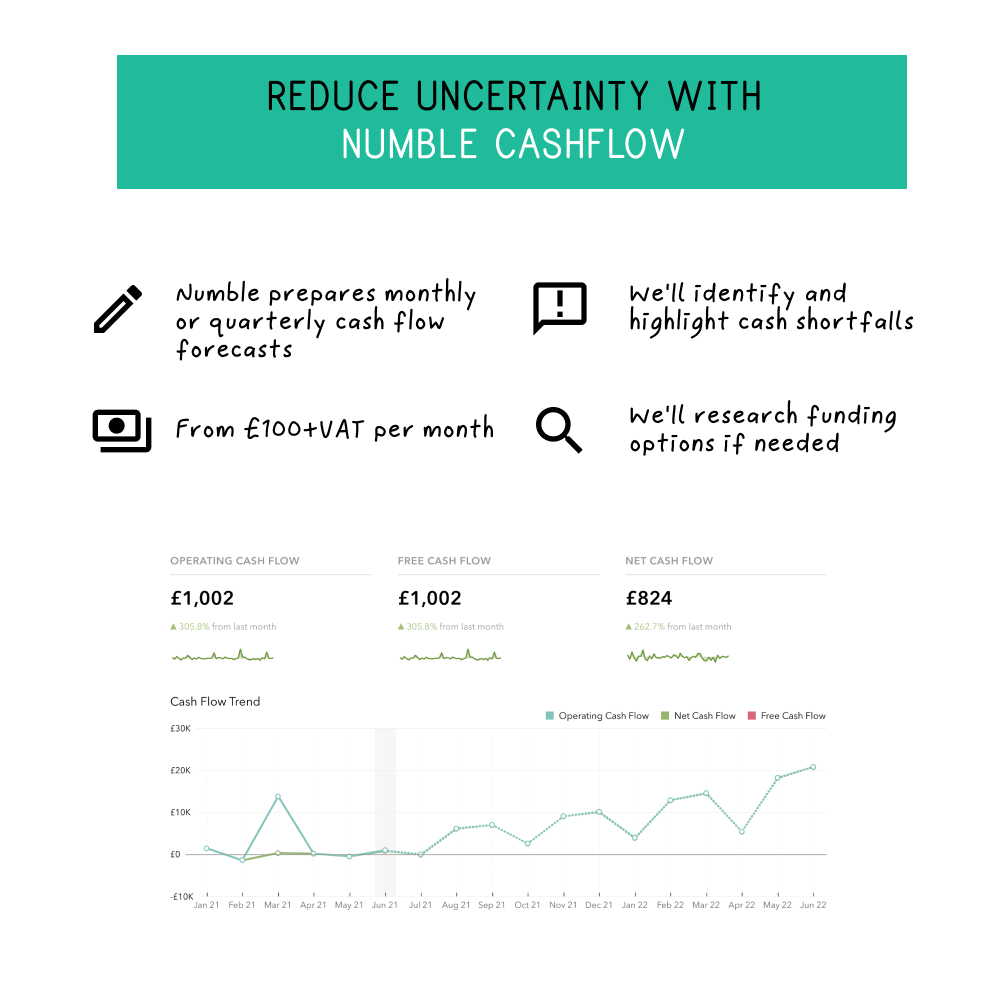 How it works
Every month or quarter, we'll reconcile your accounts and prepare an accurate cash flow forecast based on historical data.
You can shape the forecast if you think the coming period will be better, similar, or worse than normal.
We'll identify any funding shortfalls and we'll even research your options should you need to raise cash.
Level up with Numble Growth Plan
We'll work with you to draw up a long-term revenue or profit focused business model. We'll measure actual growth against the plan to help you keep on track.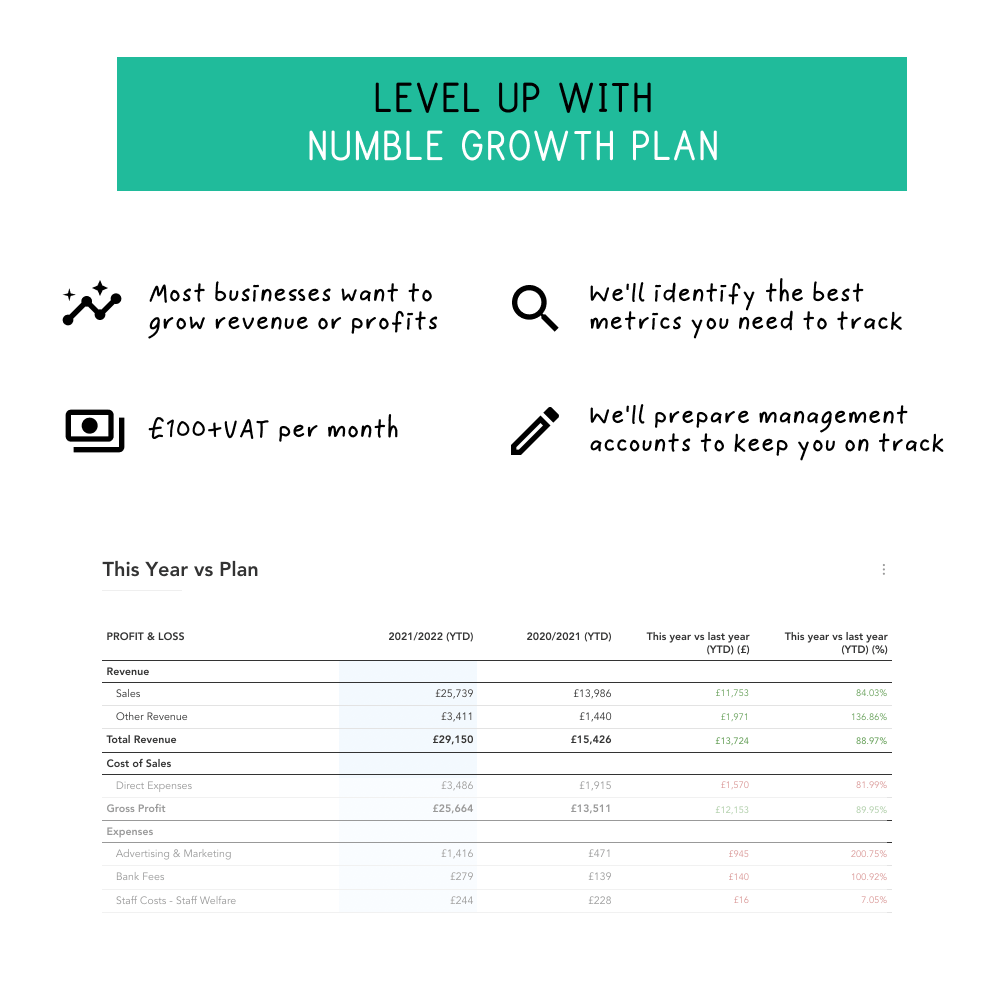 How it works
First, we'll sit down together to figure out what you want from your business.
We will identify the key metrics that you need to achieve to turn your plan into reality.
Then we'll develop a step by step financial model to make it happen.
Finally, we'll prepare quarterly management accounts and track progress against the plan. We'll explain what's working and what's not. You'll tweak the business until you get what you want.
Improve cash flow with Numble Invoicing
We'll take over sales invoicing and credit control, saving you time and hassle. We're big into automation but will happily pick up the phone if we need to.
How it works
We'll create a simple Typeform so you can request sales invoices whenever you need them.
We'll invoice clients, choosing the appropriate VAT rate where required.
Based on a pre-agreed set of rules, we'll remind, nudge and/or chase so you get paid as quickly as possible without annoying your clients.
We'll continuously seek to improve the collection process.
Time to level up?
Send us an email or book a call today.